It has been a little over two years since Near's mainnet launched and a wave of web 3.0 mass adoption started. The network has achieved over 20M accounts, 200M transactions and 800 on-chain projects.
We at P2P have decided to look back at the history of Near and highlight the events that caused the highest on-chain activity. We analyzed the dynamics of the daily number of transactions and new accounts, gathered data on how many likes Near official Twitter account collected and present all of this on a chart. Through our analysis, we spotted 5 big spikes and examined the events that caused them.
Huge Funding Raise -  January 10 to 16, 2022
On January 10, 2022, Forbes listed Near as the 3rd fastest-growing crypto ecosystem, based on the growth of the number of full-time developers from 2020 to 2021. This tweet became the most-liked in the history of @NEARprotocol (33.7k likes and 2.7k retweets). As of today, Near is still in the top 4 by weekly active developers.
Shortly after, Near raised $150 million, supported by crypto-native funds including Mechanism Capital, Dragonfly Capital, a16z, Jump, Zee Prime, FoliuBN s, Amber Group, 6th Man Ventures, Circle Ventures, and MetaWeb Ventures.
"With multichain interoperability of Rainbow Bridge, Aurora (EVM), Octopus (Substrate), and NEAR native's Nightshade sharding technology, NEAR is best suited for empowering blockchain applications for mainstream adoption," said Amos Zhang, founder of MetaWeb Ventures.
Taking into consideration that only $65.9M were previously raised, such a massive investment led to a surge in interest in Near and the second-largest spike in the number of transactions and accounts was registered (up to 1.8M transactions and 0.6M new accounts a day).
NFT BOOM and NEAR Crowd - March 15 to 21, 2022
From March 15 to March 21, the Near network reached over 1M transactions and 270k accounts. During this time the Network achieved over 4 million total accounts and was equipped with strong developer tools attracting more and more enthusiasts to build their project.
One such project was NEARApss - an NFT platform that provided a convenient way to create and share digital art. On 20th March it generated over 500k transactions but shortly after became inactive.
The second most popular dApp back then which generated over 39k transactions/day was NEAR Crowd. It is a service that allows people to earn NEAR by completing small tasks like describing an image, writing an article or transcribing short audio clips, which are usually aimed at training machine learning algorithms. To ensure tasks are completed properly, some people are paid to verify that tasks were completed accurately. To keep these workers vigilant, honeypots exist. Honeypots are tasks that are intentionally completed with mistakes.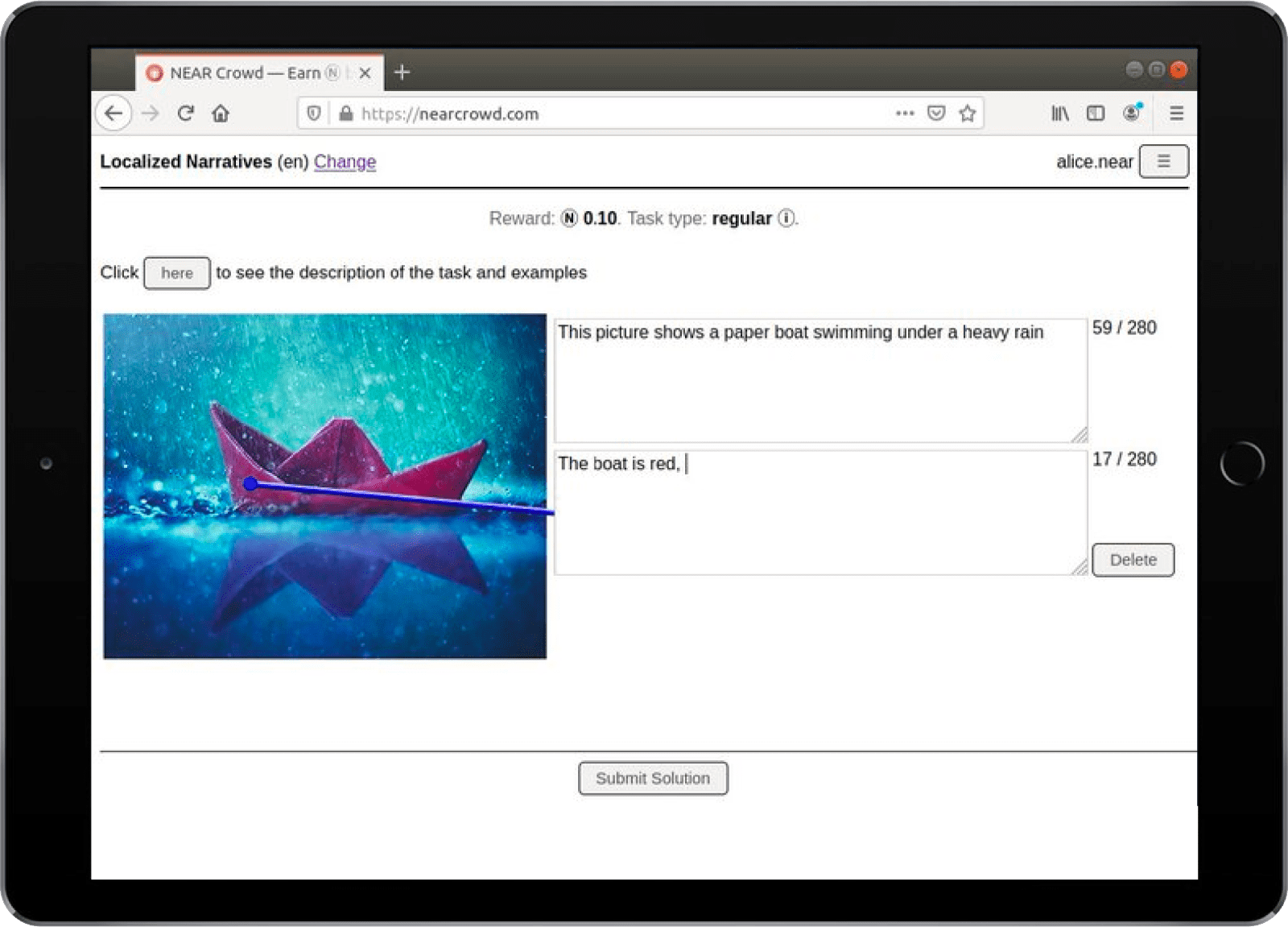 For small tasks, the price varies from 0.1 to 1 NEAR while more significant tasks could pay up to 5 NEAR. Working 2-3h a day could generate a 400-800$ income per month.
Sweatcoin - May 1 to 6, 2022
In April 2022 Sweatcoin announced a partnership with Near. On May 4th Sweatcoin airdrop generated over 0.5M transactions which made the network exceed 1.2M daily transactions.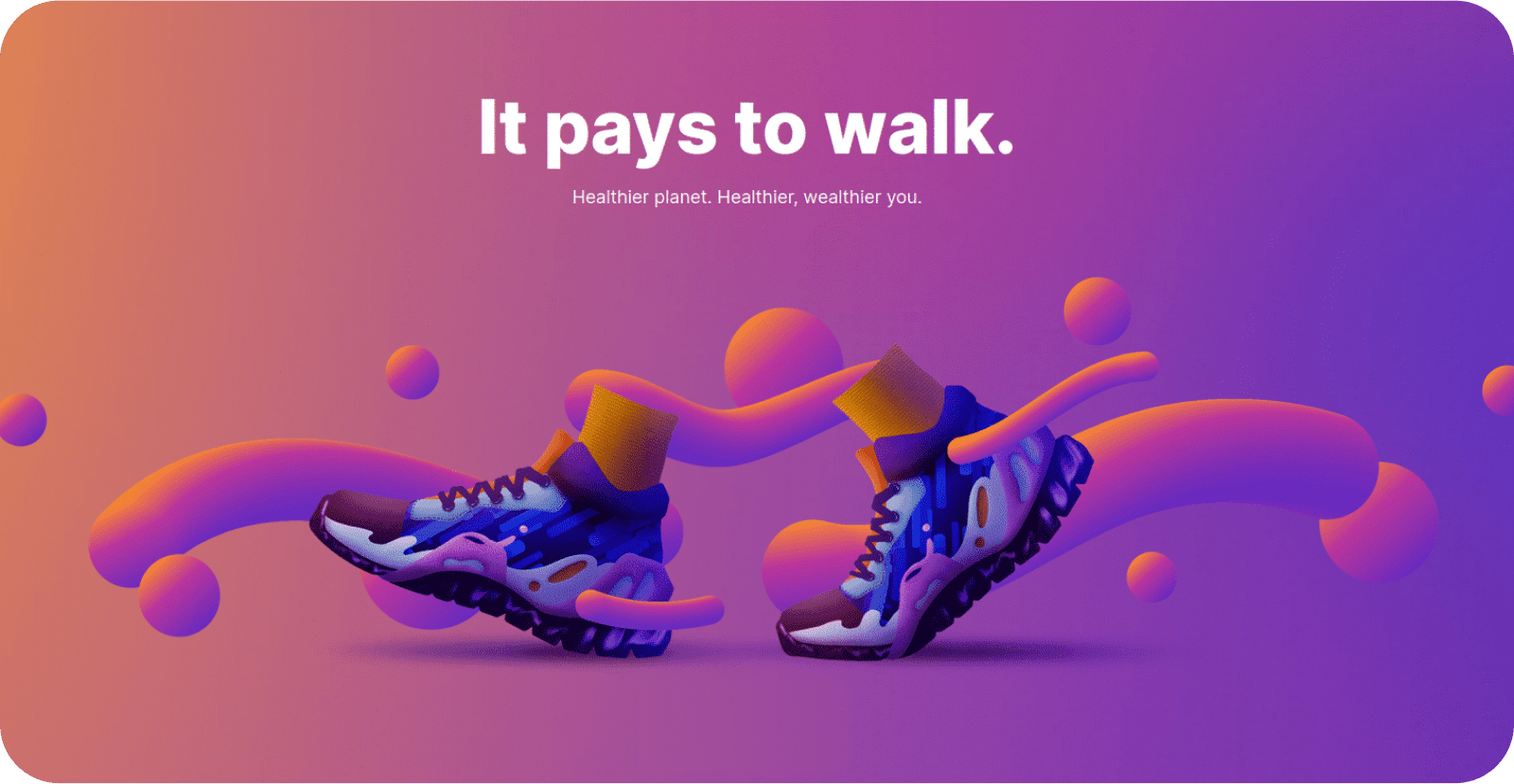 Sweatcoin is a free app that rewards users' daily steps with a native token SWEAT. It's the #1 app in over 60 countries and has 120M+ accounts.
Right now you can earn 1 SWEAT - which is around 0.02$ - for every 1 000 steps. However, tokens get increasingly more difficult to mint as time passes. This means that over time it will require increasingly more steps to gain SWEAT. It is also only possible to mint SWEAT for the first 5000 steps done each day, the subsequent 5000 will reward you with Sweatcoin - a token that can not be traded and is only used for rewards in the Sweatcoin shop.
Pizzamaker - August 21 to 22, 2022
On August 22, we witnessed the largest spike in transactions in Near history. Over 2M transactions and more than 75% came from one account named "pizzamaker.near".
No one knows for sure what was the real purpose behind those transactions. We analyzed the behaviour of this account and noticed that most of the transactions were related to Ref Finance and Jumbo, the biggest exchange platforms on Near. He was active from February 2022 and on average sends around 2k transactions per day. However, on August 20 and 21 this account made 1.2M and 1.6M transactions respectively and paid over $15k in fees. Taking everything into consideration,  we assume that this is an arbitrage bot that was misconfigured at that point in time.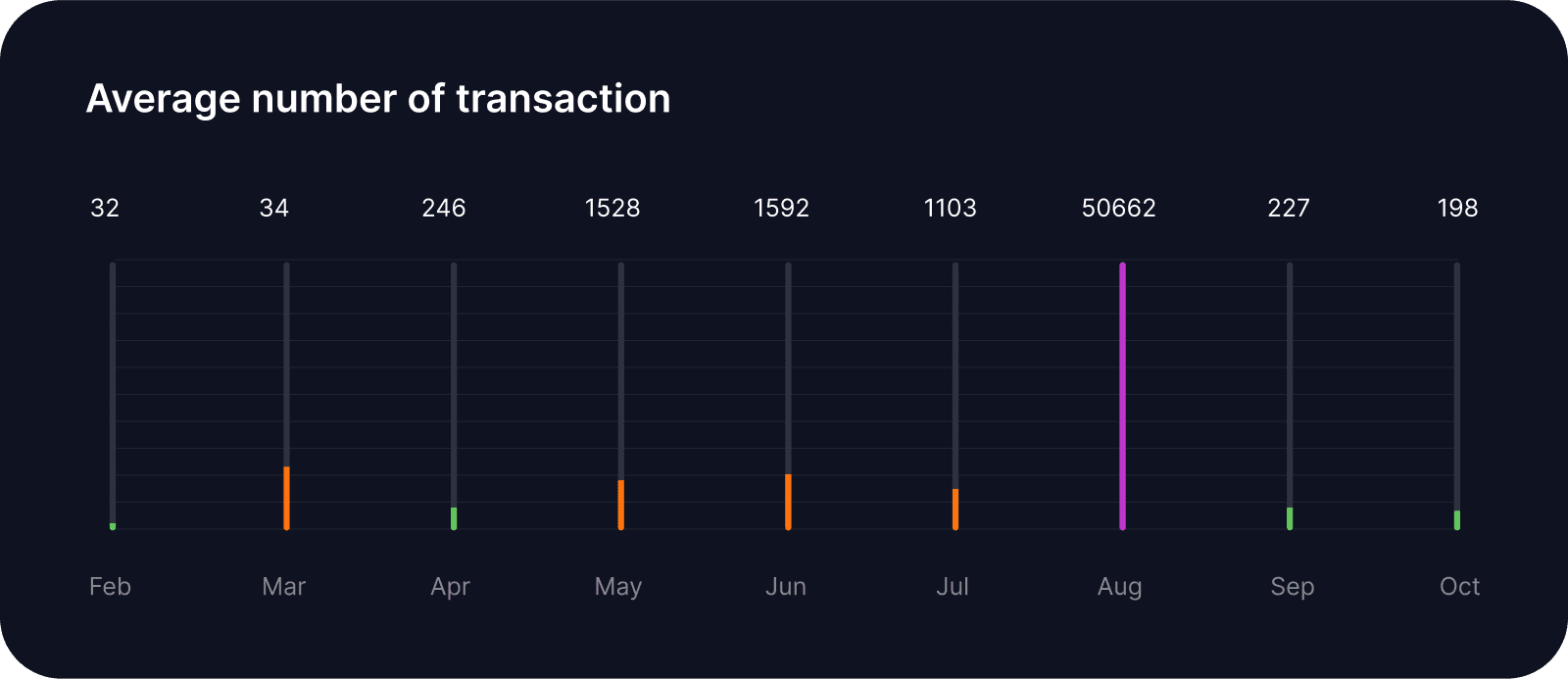 Nearcon - September 11 to 14, 2022
On September 11, the Near foundation held the incredible Nearcon event. It took place in Lisbon and had 3 giant stages and over 220 speakers. Big announcements were expected at this conference and it attracted more than 100k new users every day which fueled the network with more than 1M transactions per day.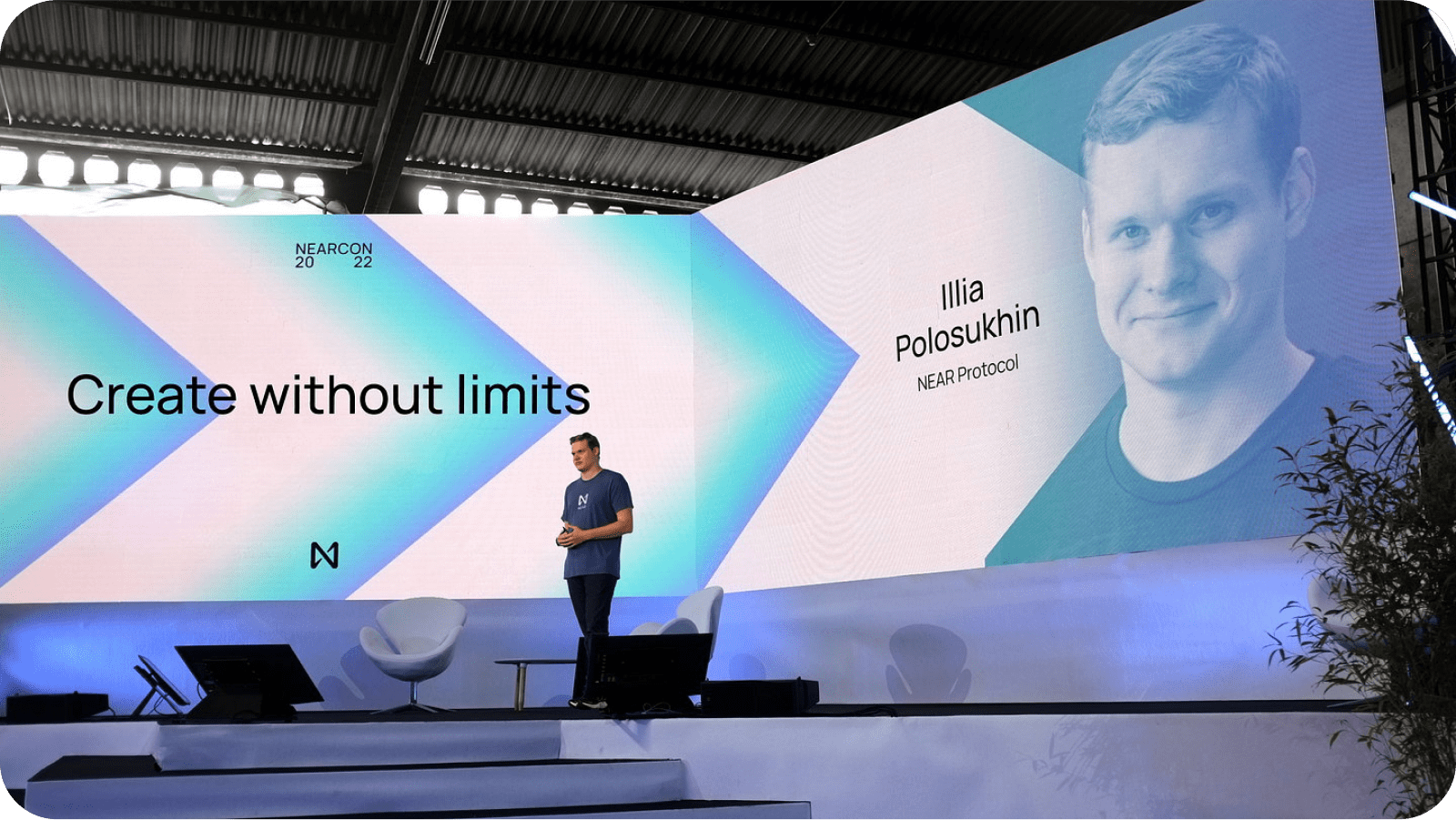 Here's a highlight of the most notable announcements:
Nightshade Sharding Phase 1 launch - an important mechanism that helps scale the network and keep transaction fees low.
Javascript SDK release - a collection of software development tools, that made it possible to write smart contracts in JavaScript, by far one of the most popular programming languages. The Near network and web3.0 apps became accessible to 12 million JS developers.
USDT release - USDT is a popular stablecoin and it was announced to be launching on Near.
NDC introduction - a community-driven initiative to empower ecosystem-wide decentralization through transparent governance, on-chain decision-making and treasury management.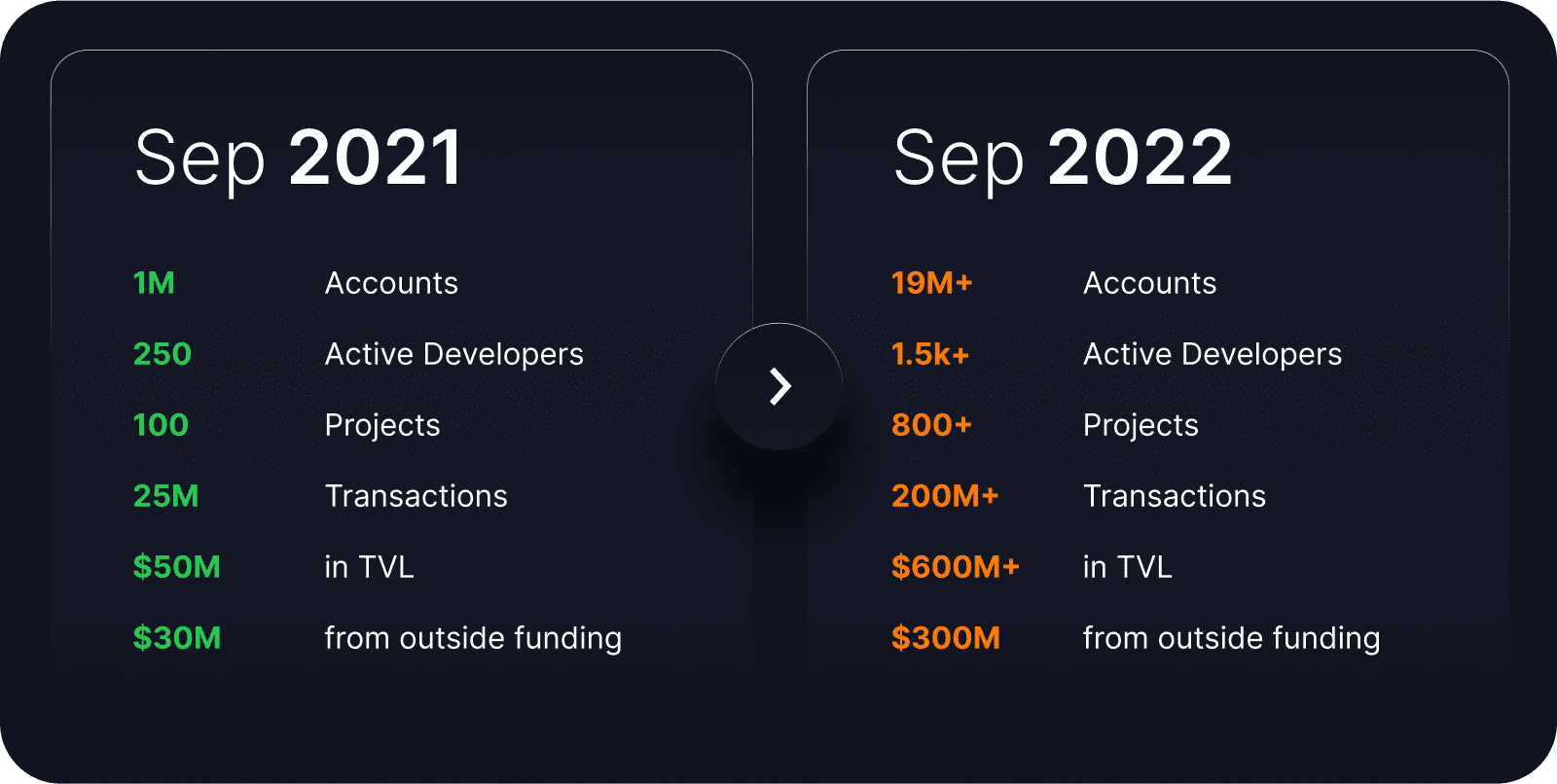 For the past 2 years, Near has seen a lot of activity and growth. There's still a lot more to come and at P2P we are excited to be part of this journey.
To support the community and celebrate NEAR, we are offering a 0% fee on Near staking until the end of 2022. Visit p2p.org/near for more details.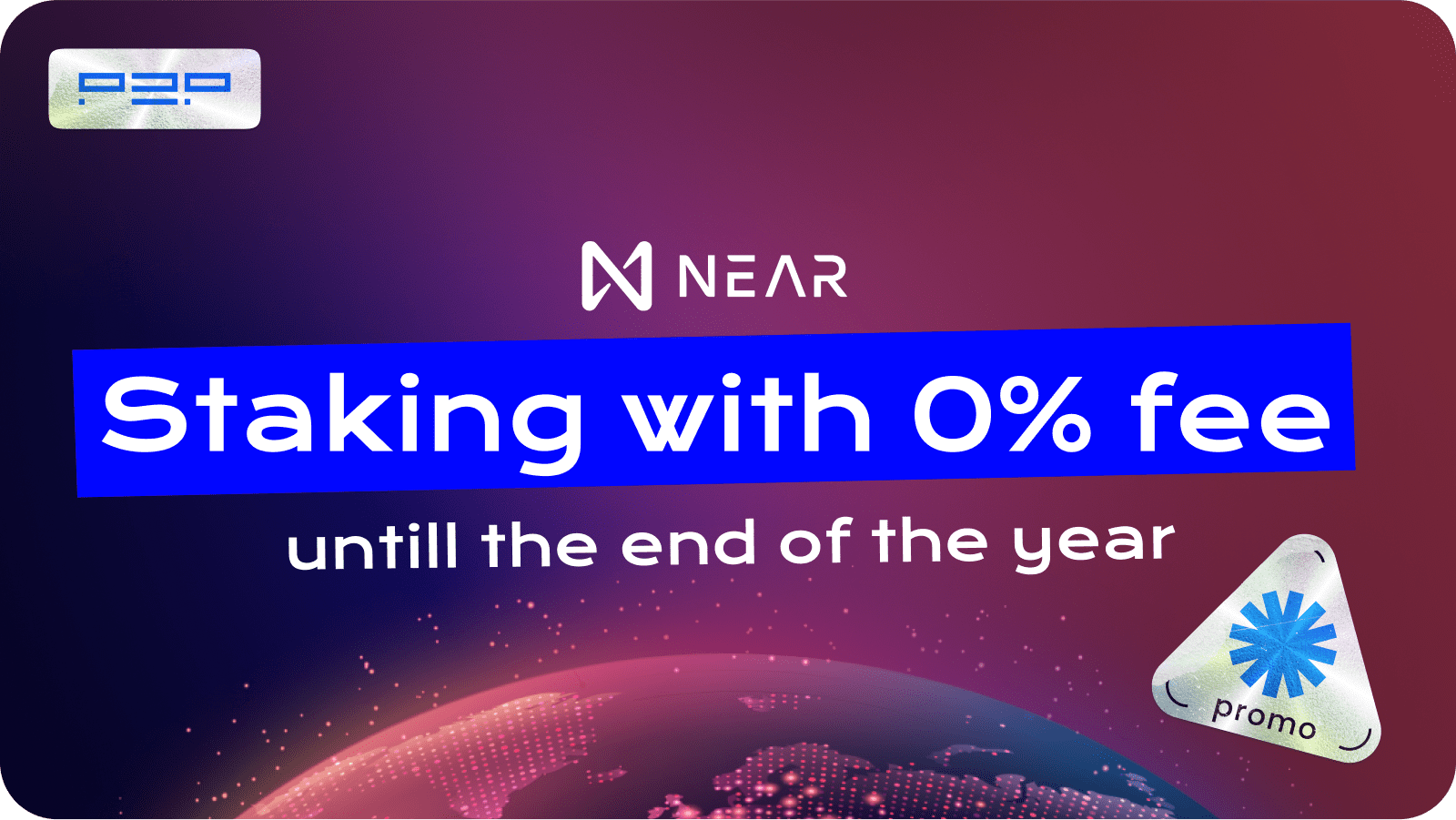 ---
About P2P
P2P Validator is a world-leading staking provider with the best industry security practices and proven expertise. We provide comprehensive due diligence on digital assets and offer only top-notch staking opportunities. At the time of the latest update, more than 1,5 billion USD is staked with P2P Validator by over 25,000 delegators across 25+ networks.