We're excited to share an update for the Polkadot Crowdloan Unlock and how our users can maximize their staking returns by allocating unlocked DOT with P2P.org.
Polkadot's structure allows parachains to gather tokens for auction bids through crowdloans. Contributors to these crowdloans have their DOT tokens locked until the end of the lease period once a parachain wins, receiving the parachain's native tokens as rewards.
Notably, October 24, 2023, marks a significant date when a substantial volume of DOTs, previously committed to supporting parachains, will be released:
Acala: 32M DOT
Astar: 10M DOT
Clover: 9M DOT
Moonbeam: 35M DOT
Parallel: 10M DOT
The upcoming unlock represents a unique opportunity for DOT holders, especially those eligible to claim from the various parachains, to maximize their rewards with P2P.ORG. Contributing natively on Polkadot ensures an automatic unlocking and redistribution of your DOT to your wallet.
What is the current rewards APR in Polkadot?
The network's average APR is roughly 19% before any fee deductions. However, the referendum 166, which successfully passed on November 14, proposes adjusting the optimal staking rate from 52% to 60%. With the staking rate now around 48%, this new measure could potentially increase the rewards ratio by an additional 5%, making staking to Polkadot more attractive.
Why Stake with P2P.ORG?
P2P.org stands out as an experienced validator operator within the network, offering nominators exceptional performance. In preparation for upcoming events, P2P.ORG has put together a straightforward guide designed to enhance and optimize your staking strategy, thereby maximizing your reward potential. This initiative underscores our primary strengths: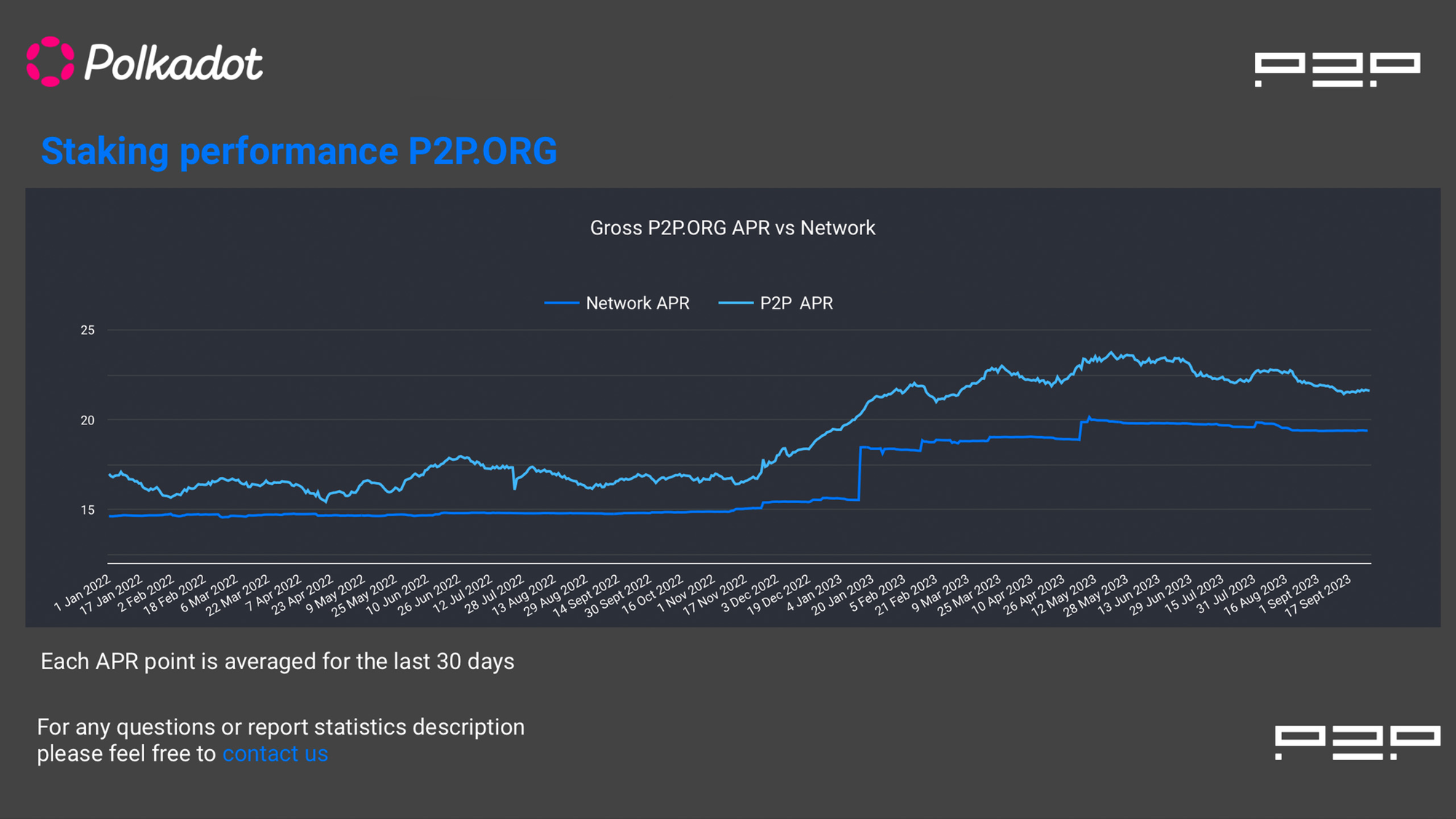 Leading Returns: With our unique rebalancing service, you can enjoy up to 20% higher returns than the network average. This isn't just about raw numbers; it's about a proven track record of delivering high APY. Check it using our live dashboard!
Proven Track Record: As the top 1 validator in Polkadot since Genesis with zero slashing events, we're trusted by over 4000+ nominators.
Round-The-Clock Support: Our commitment to you goes beyond just staking. With 24/7 personal manager support and a dedicated tech team deeply versed in the Polkadot ecosystem, you're never alone in your staking journey.
In-depth Analytics: Keeping track of your staking performance has never been easier. Our customized personal dashboard gives you comprehensive insights to ensure you can always check in on your strategy and rewards.
Unwavering Uptime: With a 99% SLA uptime, we ensure your staked assets consistently work hard for you.
Automatic Rewards Claiming: With P2P.ORG, you can put worries about manual rewards claiming to rest. We handle automatic rewards claiming for you, ensuring your earnings are seamlessly added to your account.
How to Stake with P2P.ORG? A Quick Guide
Open Polkadot.js: Start by launching the Polkadot.js application.
Navigate to Staking: Within Polkadot.js, move to the "Staking" tab.
Opt to Nominate: Hit the "Account" button and choose "Nominate".
Determine Your Stake: Specify the number of DOTs you wish to stake.
Select P2P.ORG: Find and select P2P.ORG validators from the list.
💻 Suggested P2P.ORG validators
1342iFZNrBfCP9VWxqt5p39LiHp2ynyq85Ww9K7R8w6BURps 15oKi7HoBQbwwdQc47k71q4sJJWnu5opn1pqoGx4NAEYZSHs 129TM37DNpyJqtRYYimSMp8aQZ8QW7Jg3b4qtSrRqjgAChQf 13giQQe5CS4AAjkz1roun8NYUmZAQ2KYp32qTnJHLTcw4VxW 12YP2b7L7gcHabZqE7vJMyF9eSZA9W68gnvb8BzTYx4MUxRo 12ud6X3HTfWmV6rYZxiFo6f6QEDc1FF74k91vF76AmCDMT4j 145Vw57NN3Y4tqFNidLTmkhaMLD4HPoRtU91vioXrKcTcirS 12GsUt6XbVMHvKt9NZNXBcXFvNCyTUiNhKpVnAjnLBYkZSj1
Confirm Your Nomination: Review and finalize your staking choices.
For a more in-depth guide, you can explore our detailed staking tutorial.
Special Offer for Big Holders!
For those looking to stake over 100k+ DOT, we have a special offer just for you. Reach out to our support team on Telegram to explore bespoke solutions, tailored benefits, and unique opportunities depending on your size of stake.
The upcoming Polkadot Crowdloan unlock presents an unmatched opportunity for DOT holders. By choosing P2P.ORG, you're opting for industry-leading returns and a journey marked by trust, innovation, and steadfast support.
DOT holders, this is your moment. Elevate your staking journey with P2P.ORG.
For any questions or clarifications, please get in touch with us at https://t.me/P2Pstaking.
Subscribe to P2P-economy
Get the latest posts delivered right to your inbox
Subscribe