Joining a Nomination Pool
Bonding Requirements: Note that pooling your DOTs requires bonding them, and once pooled, it takes 28 days to withdraw them.
Connect to Polkadot Staking Dashboard: Link your Polkadot account to the Polkadot Staking Dashboard.
2. Select and Join a Pool: On the dashboard, choose 'Pools'> 'Join.' Find the "P2P.ORG nomination pool: 4.5% fee" pool.

3. Select a pool and click 'Join'.

4. Bond DOTs and Submit: Decide the DOT amount to bond, remembering the minimum bond amount is 1 DOT, and you need at least 2.25 DOTs in your balance (1 DOT for the existential deposit requirement and ~0.25 DOT for the transaction fee) and click 'Submit.''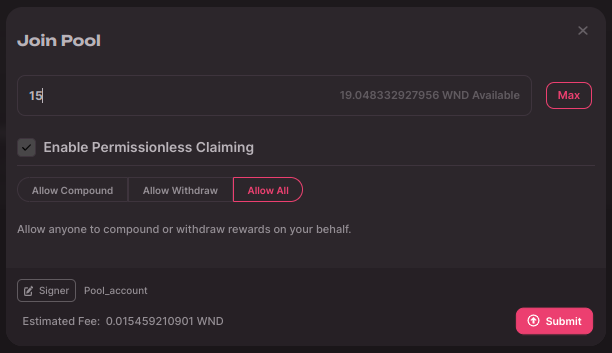 5. Sign the Transaction using your wallet.
6. When it's done, your dashboard will show the information about the nomination pool.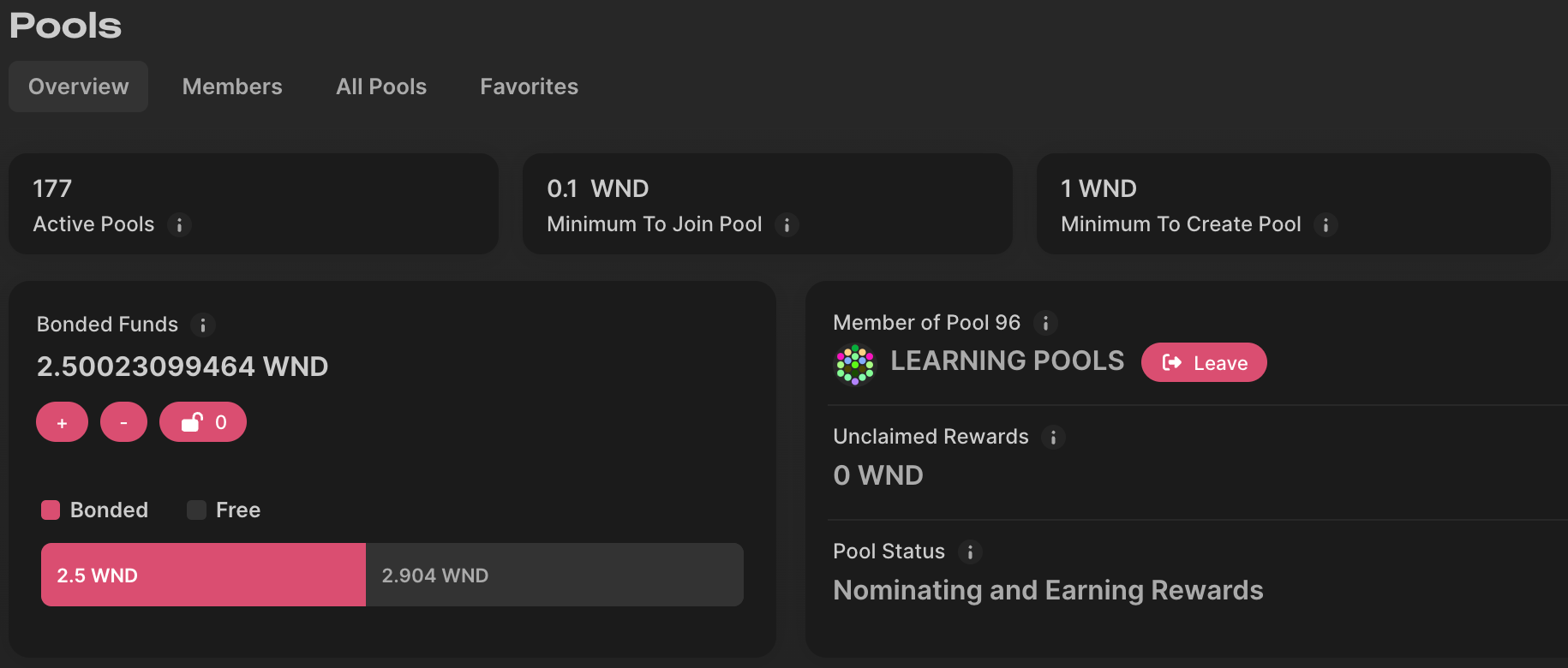 Leaving a Nomination Pool
Navigate to Pool: In the 'Pools' section, select the pool you wish to leave and click 'Leave.'

2. Unbound and Submit: Review the unbonding amount, then click 'Submit.' Your funds will be available in Polkadot after 28 days.

3. Sign the Transaction using your wallet.
How to Manually Claim Your Pool Rewards
P2P.org claims daily all validators' rewards. In nomination pools, rewards must be manually claimed by the pool member and can be bonded back into the pool for compounding.
Access Pools Tab: Go to the Pools tab on the Polkadot staking dashboard, where your unclaimed rewards are displayed.

2. Choose Reward Action:
Click "Withdraw" to add staking rewards to your transferable balance.
Click "Bond" to return your rewards to the pool, increasing your stake.
3. Claim Rewards: View the amount to claim and the estimated transaction fee. Click "Submit" and sign the extrinsic to claim your rewards.

All credits for used materials belong to W3F. Please refer to the community guide on how to join the nomination pool and the guide on how to claim rewards for more detailed information.
If you are using Ledger, please refer to the Ledger's instructions on how to join the nomination pool from the Ledger.

Web: https://p2p.org
Stake DOT with us: https://p2p.org/polkadot
Twitter: @p2pvalidator
Telegram: https://t.me/P2Pstaking
Subscribe to P2P-economy
Get the latest posts delivered right to your inbox
Subscribe