Table of Contents
What is Cosmos Hub (ATOM) Staking?
When staking Cosmos Hub (ATOM) you are supporting the network with the additional benefit of compounding your ATOM!
Staking ATOM is the process of holding ATOM "stake" to partake and support the operations in the Cosmos Hub network to receive rewards. In order to be a "Validator" and participate in these operations, one is required to maintain a server running continuously, technological knowhow, experience, and have a significant self-bond (surety bond).
This is where P2P Validator comes in, we allow ATOM token holders to forget about all the heavy lifting i.e maintenance, surety bonds etc. by "delegating" their holdings to P2P to receive these rewards. We accumulate users' stake and act as a major validation node, receiving and allocating staking rewards between our users pro rata to the delegation.
Users that chose to stake with P2P maintain full custody of their ATOM at all times and P2P will never have access to them.
Why Stake Cosmos Hub (ATOM) with P2P Validator?
Every delegator is self-responsible for the financial decisions made. It is very important to choose the right validator in order to maximize your rewards.
P2P Validator has been supporting the Cosmos Hub network from day one providing community building, educational materials and a solid development team. In the process, we have also set ourselves as a trusted validator for ATOM delegators.
We have a highly skilled, dedicated and experienced team (proven by our victories at the Cosmos Hub Game of Stakes and Game of Zones) to handle the network operations involved in staking ATOM, promising the highest network reliability and performance to our delegators. We have a 100% uptime record and have never been slashed. We have a significant ATOM stake, further demonstrating the community's trust in our staking infrastructure. With consistency and a competitive fee, we promise to provide a high yield on your delegation.
P2P Validator provides special offers for delegations over 50,000 ATOM making it one of the best places for institutional investors. You can register on our Cosmos Hub staking page or simply get in contact with us via telegram to receive these benefits.
By staking ATOM with us you help secure the network and add more value to the Cosmos Hub ecosystem in the long run. If you have any concerns along the way you can get in touch with us anytime!
Cosmos Hub (ATOM) Staking Rewards & Fees
You will be earning an estimated 19% APR when staking Cosmos Hub (ATOM) with P2P. Please keep in mind that the APR specified is approximate and changes along with network conditions.
In order to run the staking infrastructure, we charge a 8% fee on your rewards. The rewards after taking the fee into consideration will therefore be 17.48%
Example:
I delegate 1000 ATOM to P2P
Reward: 1000*19% = 190 ATOM
Fee = 190*8% = 15.2 ATOM
Estimated balance after 1 year = 1000+190- 15.2 = 1174.8 ATOM
By simply delegating my 1000 ATOM as I hold it, I will have supported the network and earned an additional 174.8 ATOM after 1 year. Please keep in mind that the APR specified is approximate and changes along with network conditions.
How to Track my Cosmos Hub (ATOM) Staking Rewards
Tracking Cosmos Hub (ATOM) staking rewards is really easy when using the Keplr wallet.
On your dashboard you will be able to see the amount staked and every pending reward for each delegation you have, not only on ATOM, but for every Cosmos Hub ecosystem supported chain.

Cosmos Hub' (ATOM) Warm-up & Reward Distribution Frequency
Unlike most other networks, you will start receiving rewards as soon as you delegate!
Cosmos Hub staking rewards are paid out in real-time, with rewards accruing approximately every 6 seconds. Your rewards will be distributed in a separate account from your delegation and are not compounded to your delegation. At any point you can decide to add them to your existing stake and start earning interest on them. The benefit of having your rewards paid out in a separate account is that they are not locked (you may withdraw them immediately) whereas it takes 21 days to unbond your delegated ATOM.
Re-delegate Cosmos Hub (ATOM)
It is very important to choose a validator that you trust and respect. Sometimes the validator you have selected may begin to perform poorly affecting your rewards, or they change their configurations (ex: increase commissions). You may also find that you would rather support another validator that supports the ecosystem in a way that better suits your vision.
With Cosmos Hub (ATOM), you have the option to instantly change your validator once every twenty-one days. If you partially re-delegate ATOM, you can re-delegate the remaining amount without the 21 day restraint.
You will not lose out on any rewards while re-delegating, but you will have to pay a small transaction fee.
Cosmos Hub (ATOM) Undelegation period
If you wish to stop delegating all together, the Cosmos Hub network enforces a 21 day period for your ATOM to unbond. In that period, you will not be earning interest on your unbonding ATOM and will not be able to withdraw them.
Be aware that you can only unbond ATOM seven times with the same validator within a twenty-one day period.
Cosmos Hub (ATOM) Ledger Live Staking Guide
We have created a step-by-step guide to help you stake your Cosmos Hub (ATOM) using the Ledger Live application!
How To Stake Cosmos (ATOM) with Ledger Live | P2P Validator
Before you start, make sure that you:
Have updated Ledger live to its latest version
Download the latest version of the Cosmos Hub App
Add an ATOM account. Learn more
Add ATOM to your account
Getting started:
Go to your accounts and select the one you wish to stake from.

At the bottom of the page you will see a section named "nominations". Here click on the button "Earn rewards":

A new window will pop-up detailing information regarding the delegation process. After reading, press "Continue":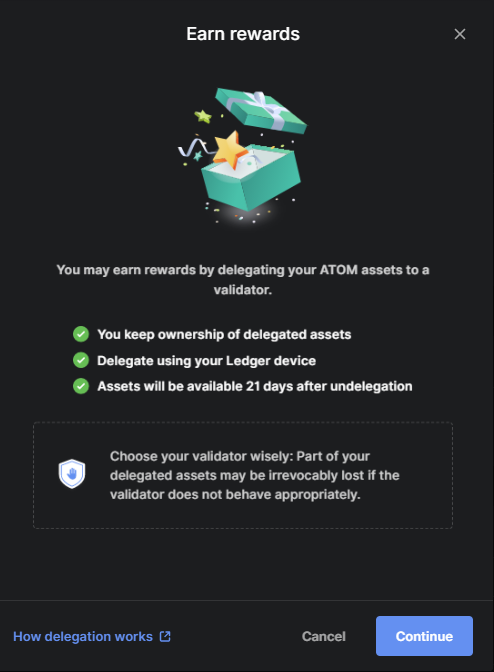 Search for P2P validator from the list of validators. Input the amount you wish to stake and press "Continue":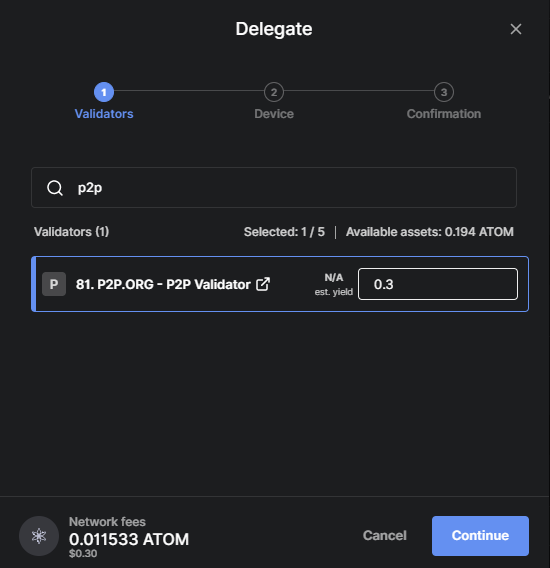 You will be prompted to confirm the delegation on your ledger device. Please note that the Cosmos Hub APP must be open before proceeding.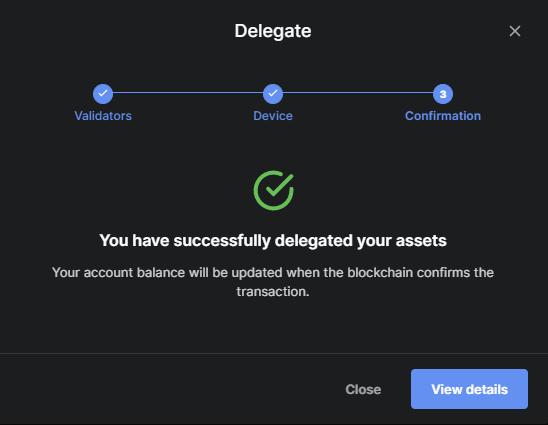 You should now receive a confirmation message on your ledger live.
That's it, your stake will activate and you'll start earning rewards immediately! Note that you will have to claim your rewards manually, which can either be added to your stake or to your available balances.
imToken Comos (ATOM) Staking Guide
Keplr + Ledger Cosmos Hub (ATOM) Staking Guide
This tutorial helps you stake and manage ATOM tokens on the Cosmos blockchain, using both the Keplr Browser Extension and Web Wallet together with your favorite Ledger device.
Cosmos Hub (ATOM) Staking FAQ
What is Cosmos Hub?
Cosmos Hub is a decentralized network of independent, scalable, and interoperable blockchains.
What is the Cosmos Hub staking APR?
The Cosmos Hub staking reward is approximately 16.1%. More info here.
How often are staking rewards distributed?
Cosmos Hub staking rewards are paid out in real-time, with rewards accruing approximately every 7 seconds. More info here.
Is there an unstaking period?
The Cosmos Hub network has a 21 day unstaking period throughout which your tokens will not be transferable. More info here.
Is there a slashing risk for validators?
Cosmos Hub network does have slashing risk for delegators.
Is there a minimum staking amount for Cosmos Hub?
There is no minimum staking amount for staking ATOM.
Do staking rewards compound?
No, staking rewards must be claimed by the user manually and delegated to achieve compounding effect.
What is the Cosmos Hub inflation rate?
The Cosmos Hub network inflation rate is approximately 7% per year.