This tutorial helps you stake and manage XPRT tokens using the Keplr Browser Extension together with your Ledger device.

This guide will help you
Set up your Keplr Wallet
Deposit your XPRT tokens to your wallet
Stake XPRT to earn staking rewards
Manage your XPRT stake and grow your portfolio

Before you start:
Download and install the newest version of Ledger Live on your desktop machine.
Update your Ledger device to the newest firmware.
Install the latest version of the Persistence App on your Ledger device.

See below for our step-by-step guide.
I. Setting up your Keplr Wallet
Open the Keplr Browser Extension and press 'Import Ledger'.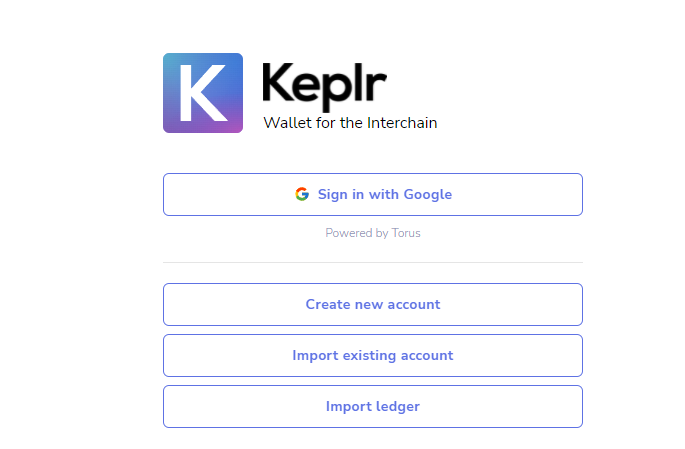 2. Type the account name you wish to use, then click 'Next'.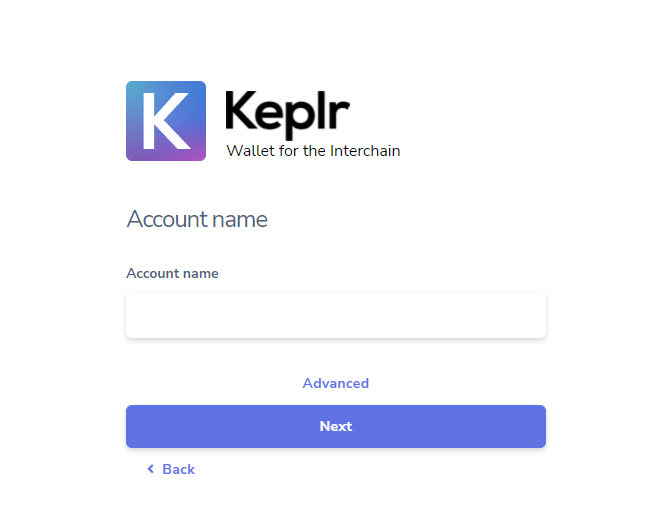 3. Plug in and unlock your Ledger device. Open the Persistence app and click 'Next'.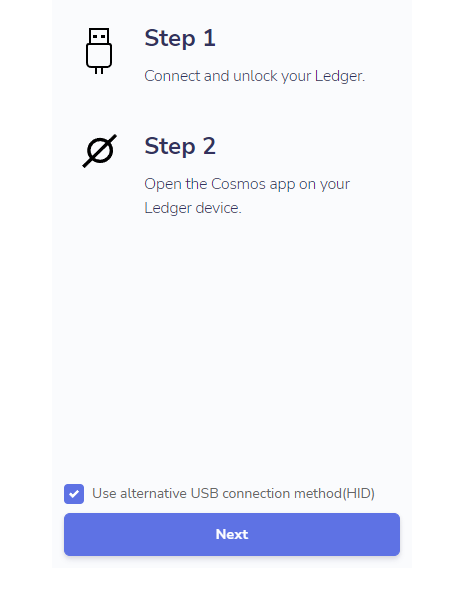 4. Your Keplr account should now be successfully connected to your Ledger device.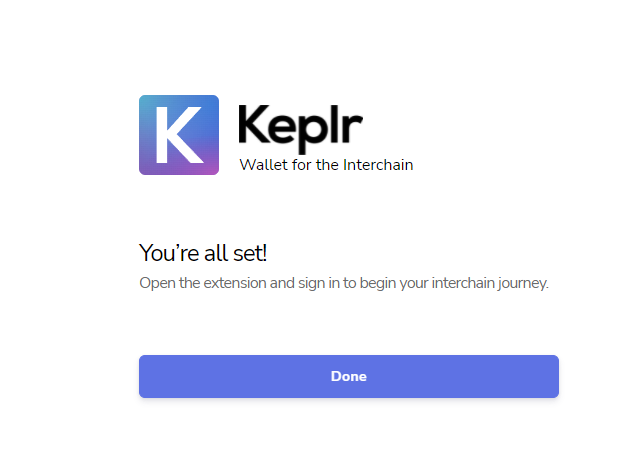 Now you will need to deposit XPRT into your wallet.
II. Deposit Persistence (XPRT) into your Keplr wallet
1. Open the Keplr Browser Extension and choose your Ledger account (via the 'human icon' on the top right).

2. Find your Persistence wallet by selecting the drop down menu on the top.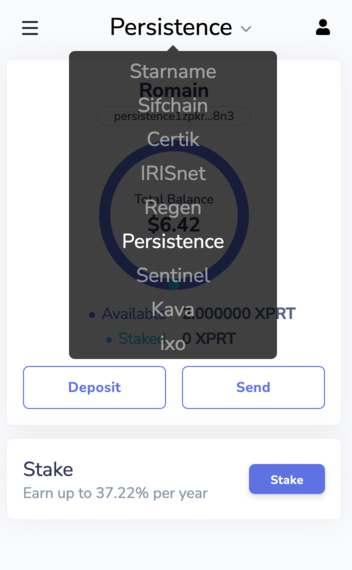 3. Copy your address by clicking on it as indicated in the image below. Alternatively you can select "Deposit" to find your address QR code.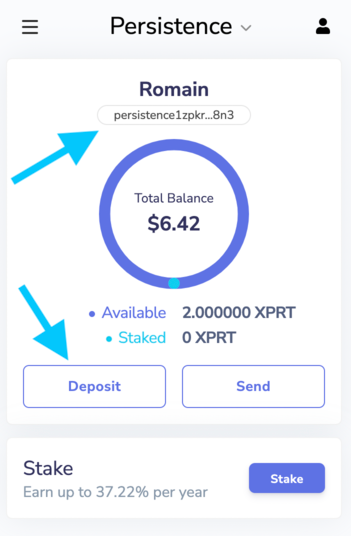 Once you have deposited your XPRT and you own a balance on your Keplr wallet, you are now ready to start staking!
III. Staking your XPRT!
1. To start staking select "Stake". You will be prompted to the web version of the Keplr wallet where you will see a list of validators.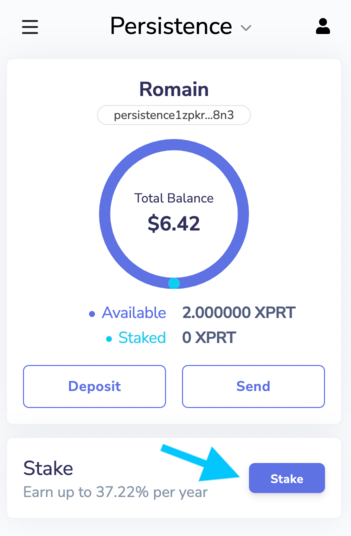 2.  Choose your validator (P2P.ORG - P2P Validator) then click 'Manage' and 'Delegate' in the next picture.

3. Choose the amount of XPRT you want to stake and click 'Delegate'.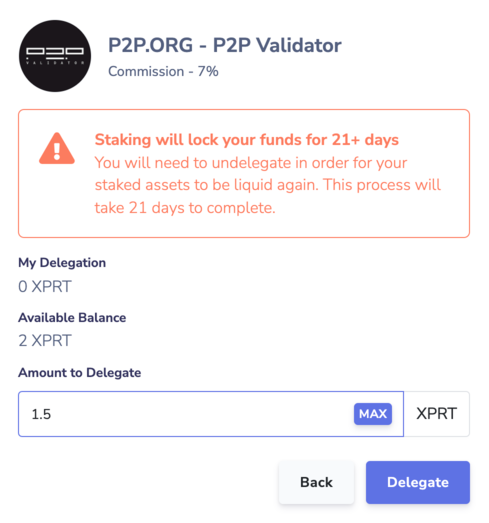 4. Set your preferred fee and select "Approve".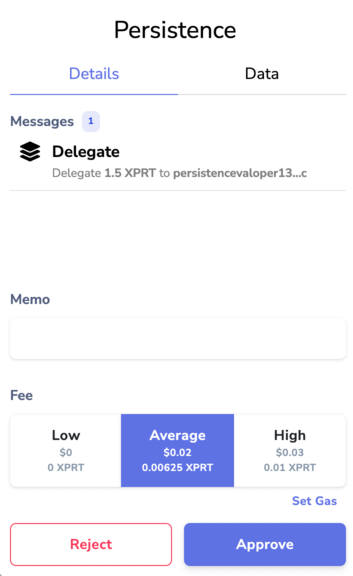 5. Check the information on your Ledger device and click 'Approve' on it.
6. Use the Dashboard within the Keplr Web Wallet to see whether your delegation was successful.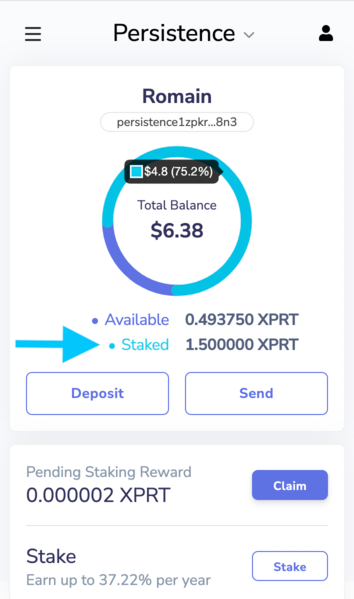 Now let's move on to managing your staking assets.
IV. Managing your Persistence (XPRT) stake
Claim your XPRT staking rewards
1. Open the Keplr Browser Extension and click 'Claim'.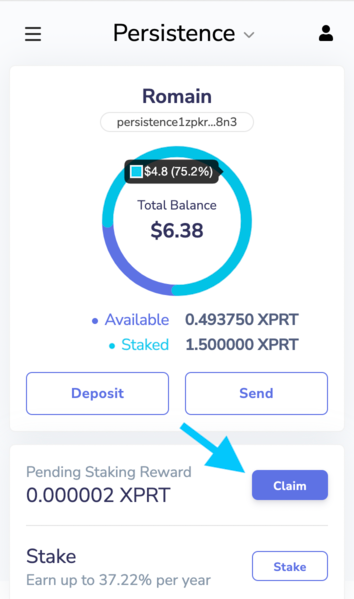 2. Set your preferred fee and select "Approve".
3. Plug in your Ledger device, unlock, and open the Persistence app on it, then click 'Next' in the Browser Extension pop-up.
4. Review the transaction on your Ledger device and confirm it.
Compound your XPRT staking rewards to increase your return
To compound, you simply have to claim your XPRT rewards and go through the staking process again as in section III. That's it!
Now you know how to delegate and compound your XPRT staking rewards using the Keplr Browser Extension together with your Ledger device.
If any questions arise, whether on XPRT staking or not, feel free to contact us via Twitter, Telegram, or email.

About P2P Validator
P2P Validator is a world-leading non-custodial staking provider with the best industry practices and proven expertise. We provide comprehensive due-diligence of digital assets and offer only high class staking opportunities securing more than 3 billion of USD value at the time of the latest update.
P2P Validator is trusted by over 24,000 delegators across 25+ networks. We are a major player in all networks we support because of our experience, commitments and our reputation. We pay special attention to the process of governance. P2P has the intention to contribute and provide long term support to the Persistence (XPRT) network.
Subscribe to P2P-economy
Get the latest posts delivered right to your inbox
Subscribe