This tutorial helps you claim, stake and manage CRE tokens using the Keplr Browser Extension together with the Crescent UI.
What is Crescent Network?
The Crescent network aims to create innovative DeFi tools through advancements in inter-blockchain technology. If you delegated ATOM before 01-01-2022 00:00:00, you may be eligible to receive their native token CRE!
 
What is CRE Liquid Staking?
Liquid staking allows participants to earn staking rewards without the need to lock their assets.
When liquid staking you will receive bCRE which is the token that represents staked CRE. bCRE lets you earn staking rewards for holding these tokens in your wallet. They are fully liquid, so you can use them for your needs at any time — trade, sell, exchange, invest in DeFi projects, etc.

When you unstake your bCRE, you will get more CRE than what you originally liquid staked. The extra CRE that you received after unstaking are the rewards that you earned during your time staking.
 
How to Stake CRE
The first thing you'll want to do is to go to: Crescent staking page.
Once there, connect your Keplr wallet: select "Connect Wallet" in the upper right corner.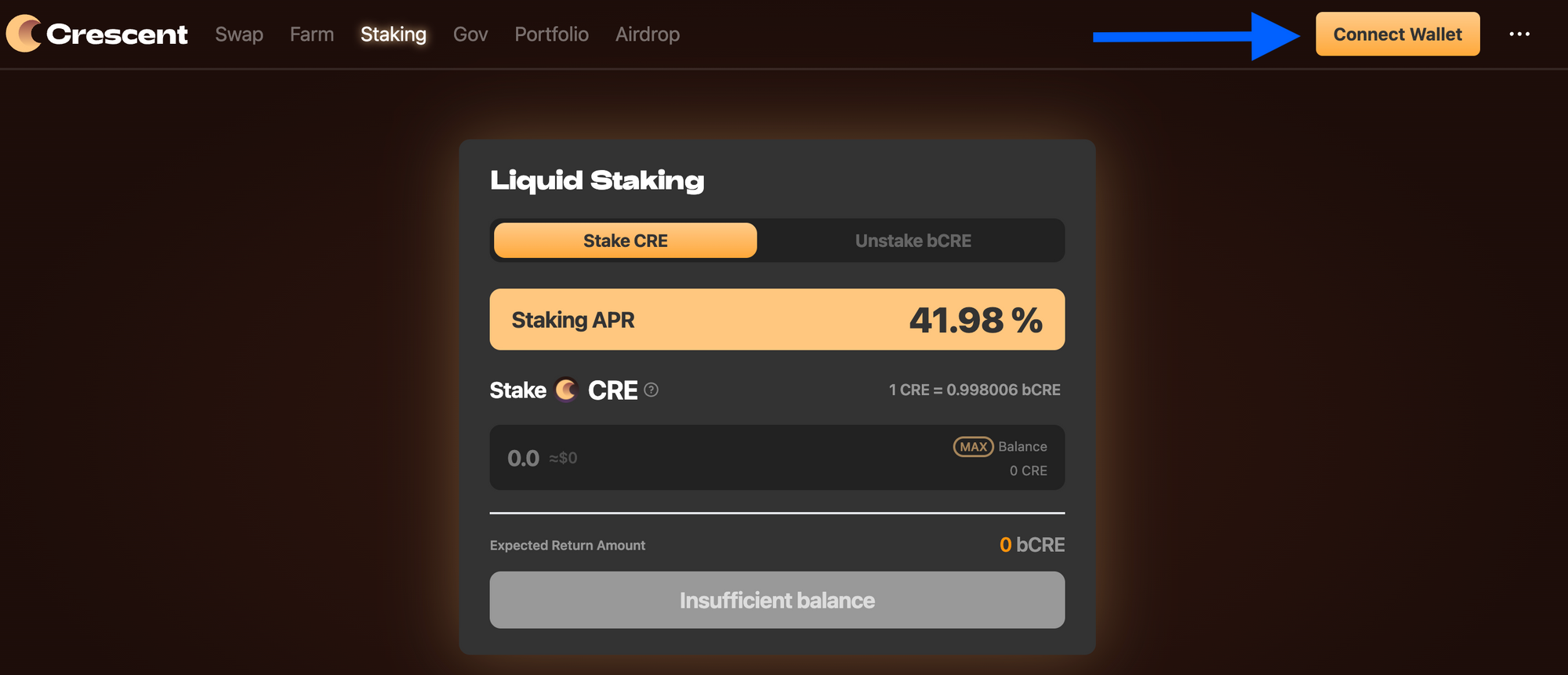 3. A pop-up will appear to select which wallet you would like to connect. Select Keplr Wallet.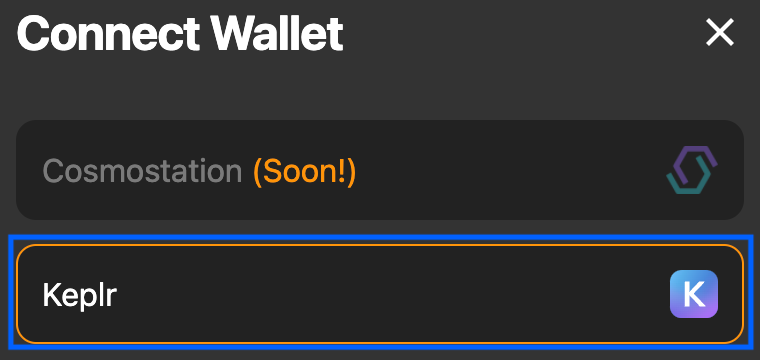 4. If you have not already logged into your Keplr account, a pop-up will appear to do so. Enter your password to log in.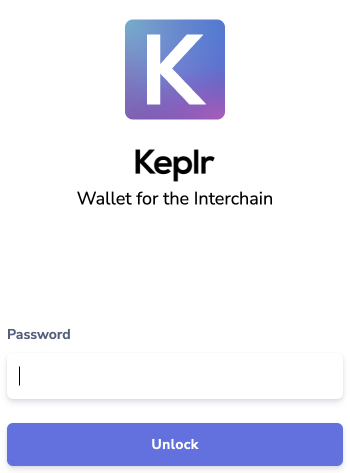 5. You will be asked to add Columbus and Cresent blockchain to Keplr. Next you will have to approve the crescent app connection to your Keplr account.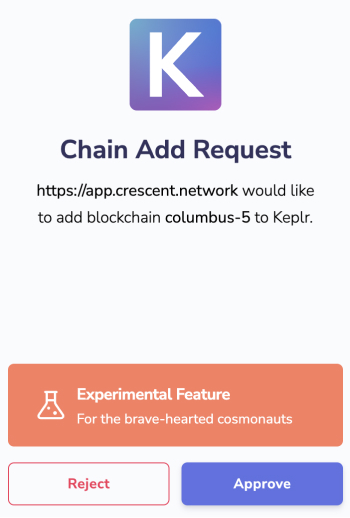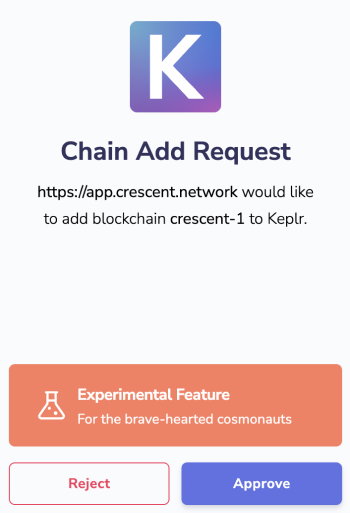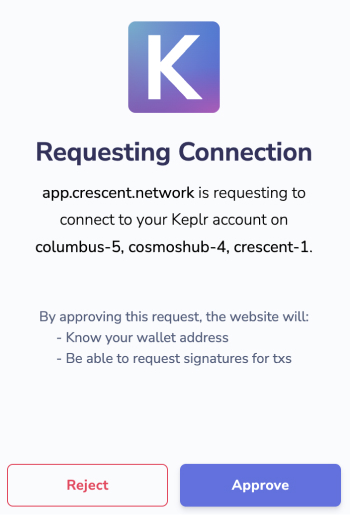 6. You can view your eligibility to claim CRE through the following website: https://app.crescent.network/airdrop.

If eligible, you will have claimed 20% of the CRE you can receive from the airdrop. In the next section "Claiming the remaining CRE from the Airdrop" we will show you how to retrieve the rest.

You should now be able to see your CRE balance on both your Keplr account and the Crescent staking page. On Keplr wallet, select the networks on the top of the extension and your balance will be indicated as shown in the image below.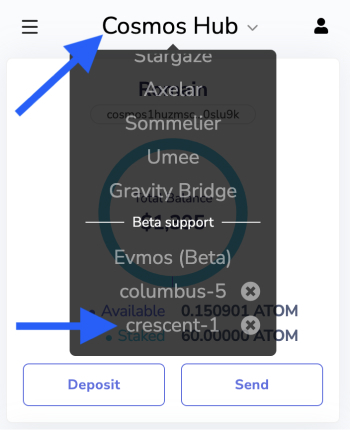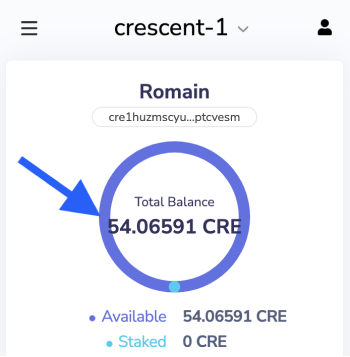 7. To start staking, go to the Crescent staking page where your balances should now be shown. Enter the amount to stake in the input field.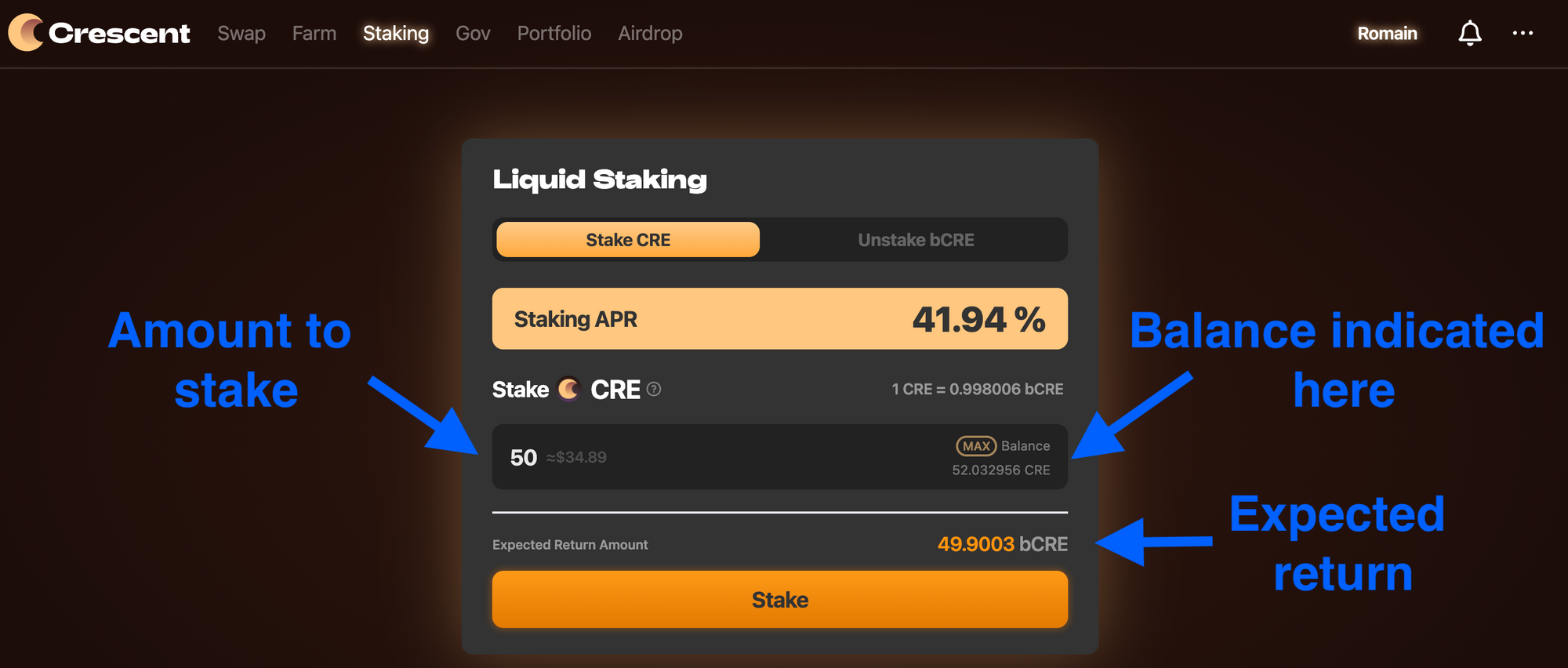 8. A pop-up will appear to approve the staking request transaction.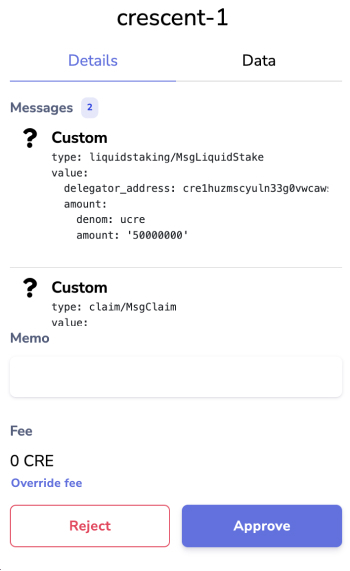 9. You will see a confirmation of your stake being completed in the top right hand corner of the Crescent staking page.

You are now the owner of bCRE! You can view your bCRE balance in your Keplr Wallet.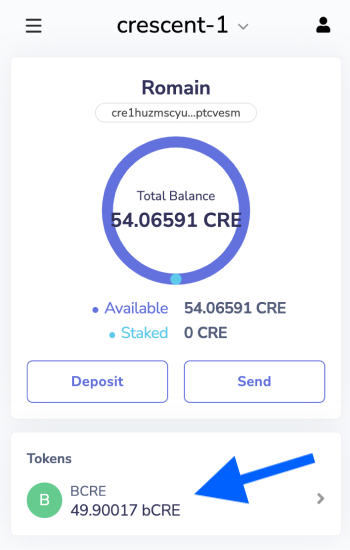 Thats it!  You are now successfully staking and will receive your staking rewards upon unstaking.
 
Claiming the remaining CRE from the airdrop!
1. You will notice that upon liquid staking the first time, you will receive an additional 20% CRE from the airdrop.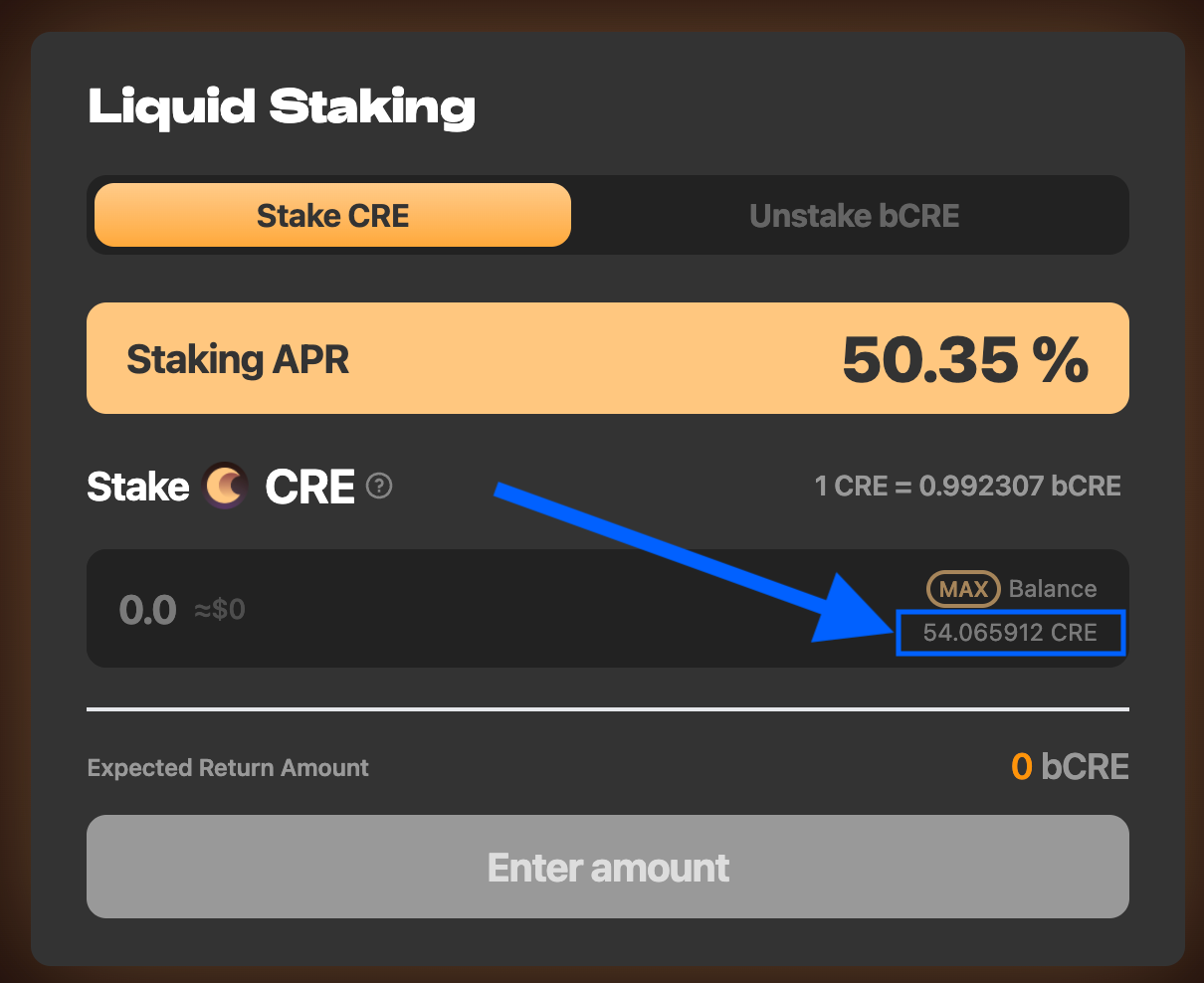 2. To receive the next 20%, go to Crescent's swap page. Select which tokens you wish to swap, and make a transaction of any size.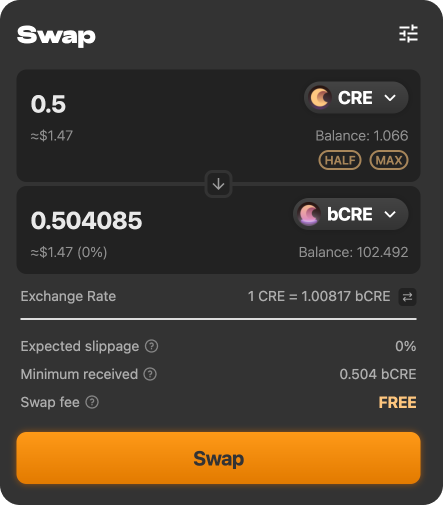 Approve the transaction. When completed, you will receive another 20% from the airdrop.
3. Next go to Crescent's farm page. Select a pool that you wish to add liquidity with.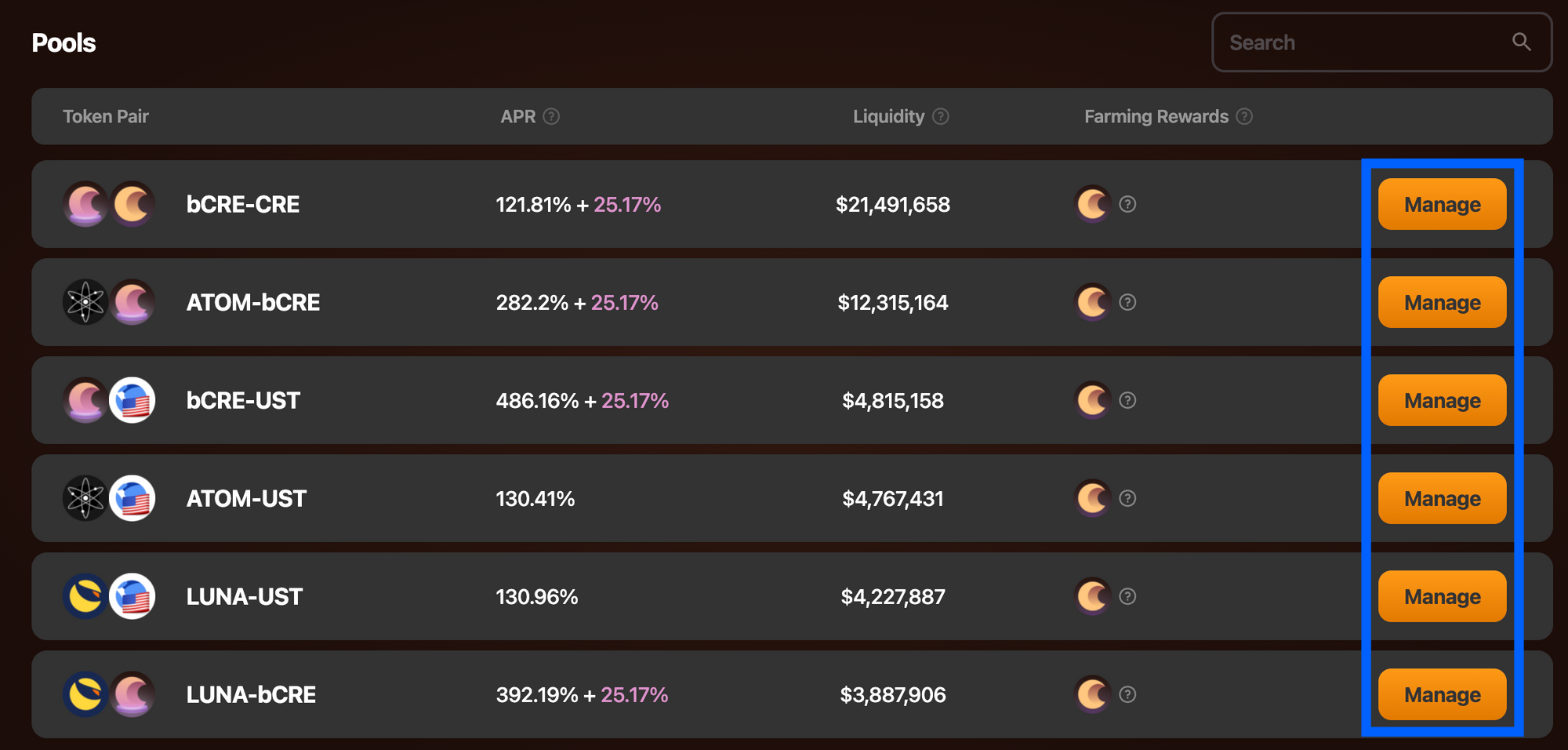 Select any amount you wish to deposit into the pool. You must hold both tokens.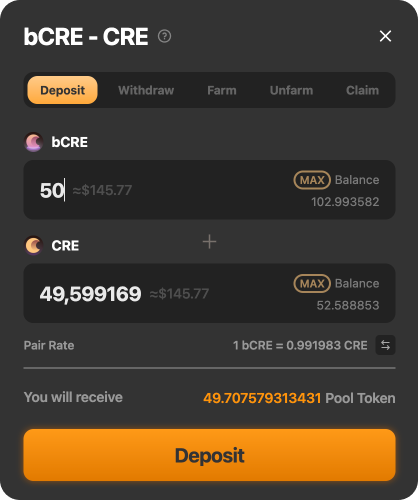 Approve the transaction. When completed, you will receive another 20% from the airdrop.
4. The last 20% can be claimed by participating in a governance proposal vote. When a proposal is submitted, go to Crescent's governance page and place your vote. You will then receive the last CRE from the Airdrop.
💡
Once you have claimed your CRE, you can then repeat the process of liquid staking the additional CRE that you just received.
 
You can find more information on Crescent official docs page.

Thank you for your interest in the Crescent network!
---
About P2P
P2P Validator is a world-leading staking provider with the best industry security  practices and proven expertise. We provide comprehensive due-diligence  of digital assets and offer only top-notch staking opportunities. At the time of the latest update, more than 3 billion of USD value is staked with P2P Validator by over 20,000 delegators across 25+ networks. We are early Web3Auth investors committed to provide long term support for the network.
If you have any questions, feel free to join our Telegram chat, we are always open for communication.
Subscribe to P2P-economy
Get the latest posts delivered right to your inbox
Subscribe